Crossing Bridges

works with individuals, families, churches, schools, and other organizations to promote awareness of the needs and abilities of persons facing disabling conditions. Believing that all persons are created in the image of God and are unconditionally loved by God, and that no person should be diminished by another, even by unintentional words of actions,

Crossing Bridges

seeks to:



Equip others with the knowledge and skill to work effectively with individuals and families affected by disability


Promote disability awareness and ministry in area churches

Encourage people with disabilities to discover, develop, and use their gifts and talents in service to God and others


Empower others through evangelism, discipleship, and leadership development

Learn more about
Crossing Bridges
by clicking on the following links (pdf files):
Excellence in Missions
Ministry Focus and Philosophy
Crossing Bridges, Inc.

Crossing Bridges
seeks to affiliate with indigenous ministries to help prepare Christians for leadership roles in churches and para-church organizations so that they may effectively bring light and hope to people in need through evangelism, discipleship, and promoting social justice. our desire is that the Christian Church become a model of inclusiveness where people, disabled and able-bodied, experience an atmosphere of belonging as the minister to and with one another.

"I will bring them to my holy mountain and give them joy in my house of prayer. They will be welcome to worship . . . my house of worship will be known as a house of prayer for all people."

Isaiah 56:7 (The Message)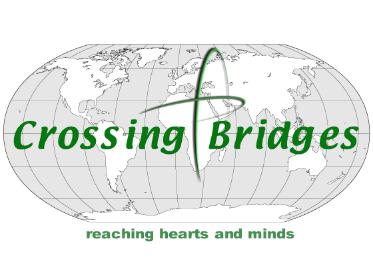 Crossing Bridges is a International Affiliate Ministry of the Joni and Friends International Disability Center